Download any online playing video to your Android device !
This app is a regular web browser,
where you can search any video or movie on the web,
and then you have to tap the play button
and then to tap the app's button and download it to your android
device, to watch after it without internet connection and ...
to keep it yours for ever !!!
Just simple like that !!!
Video Downloader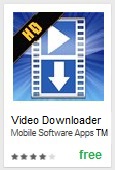 Get it today for your Android Device,
from our App Store !
Thank you for your continious support !
All the best are coming now !
Get it from here :
http://www.mobilesoftwareapps.org/h25-video-downloader